Main content starts here, tab to start navigating
7artscafe welcomes "Naomi Gertelman" and "Feilin Gu" as our May 2023 artists.
Scroll down for both artist's profiles and works.
---
Naomi Gertelman
アイデンティティ。それは私が自分の人生の中で、いつも戸惑いを感じてきた部分である。私は、あるどこかの場所をふるさとと呼ぶことができない。私も、私の家族も、さまざまな国々でそれぞれ生まれ、育ってきたから――。私の名前はナオミ。アートを志す16歳。イスラエルにルーツを持ち、日本で生まれ育った。
芸術家は、一つひとつの作品の裏に深い意味を込めるべきなのかもしれない。でも、私は、心に浮かんでくるものを絵の具の流れるままに描くことが多い。ふつうじゃない色の組み合わせを面白がったり、奇妙な風貌の人々で遊んでみたり、ありえない場所に動物たちを置いてみたり……。私の作品には、あるどこかの場所というものがない。私の作品は、私の頭の中だけで完成する想像の世界である。
観る人には、"私の"不思議の国のアリスになった気分で、未知の世界を探検してほしいと思う。私にとって、私たちが住むこの世界はビデオゲームにも似て、想像に満ちた、と同時にきわめてリアルな世界なのだ。それを私といっしょに体験してほしい。
というわけで、アリス(そう、今これを読んでいるあなたのこと!)、この小さな扉を開けて、私の不思議な国に足を踏み入れてみない?
Identity has always been a confusing part of my life. It has been impossible for me to call a certain place home, since my family and I have been raised and born in a lot of different countries. My name is Naomi, and I am a 16-year-old aspiring Israeli artist, born and raised in Japan.
As an artist, I am expected to have a deeper meaning behind each work, but often I just draw whatever comes to mind and let my acrylics lead the way. I enjoy using strange combinations of colours, playing around with odd-looking people, and drawing animals in impossible habitats. My art does not include specific places, instead it's just an imaginary world completely made up in my head.
I want my art to make you feel like you are Alice in my Wonderland, exploring the unknown. To me, the world we live in is so imaginary yet so real, resembling a video game. And I would love for you to experience it with me.
So Alice, why don't you open my little door and step into this Wonderland?
13歳のとき、パンデミックが起きた。いつもの生活がとつぜん断ち切られ、時間だけはたくさんあるのに、何もすることがない状態に陥った。
当分のあいだは海外旅行もままならなかったけれど、でも私は、自宅のソファの上にいながらにして、新しいことを体験する方法を発見した。ジュール・ヴェルヌの『八十日間世界一周』の中で、私は、サルたちといっしょにジャングルの奥地を進み、大陸から大陸へと船でわたっていた。あのロックダウン下の奇妙な時期に私を前に進ませ続けてくれた冒険を描きたい、その思いが私を突き動かした。
A pandemic hit when I was 13. The normal way of life was interrupted and
I was left with plenty of time and nothing to do.
We couldn't travel outside the country for a while but I found a different way of experiencing new things while sitting on my sofa. When I read "Around the World in Eighty Days" by Jules Verne, I traveled with monkeys in deep jungles and went by boat from country to country. This inspired me to illustrate the adventures that kept me going during that strange period of time.
"Self portrait"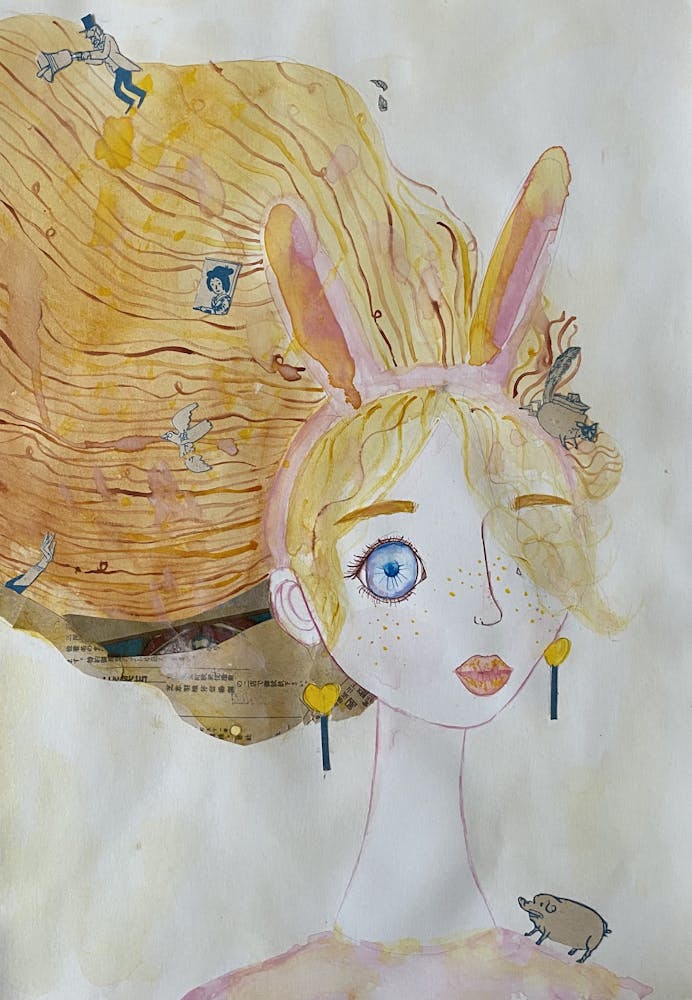 Watercolor, application, vintage magazine
"To see without my eyes"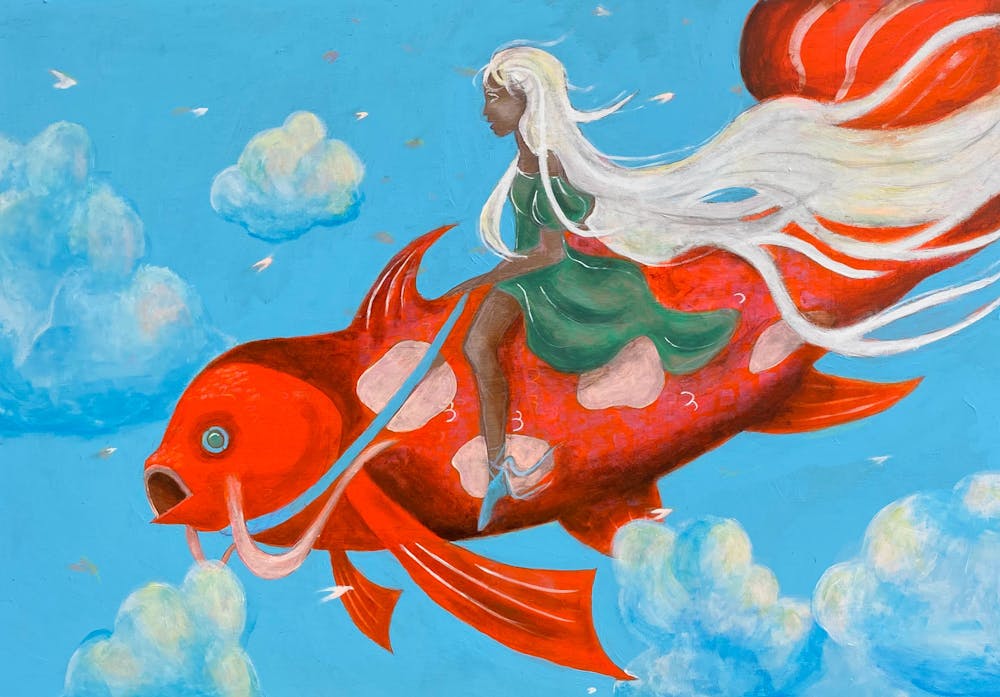 Acrylics, color pencils


"Scattered pages"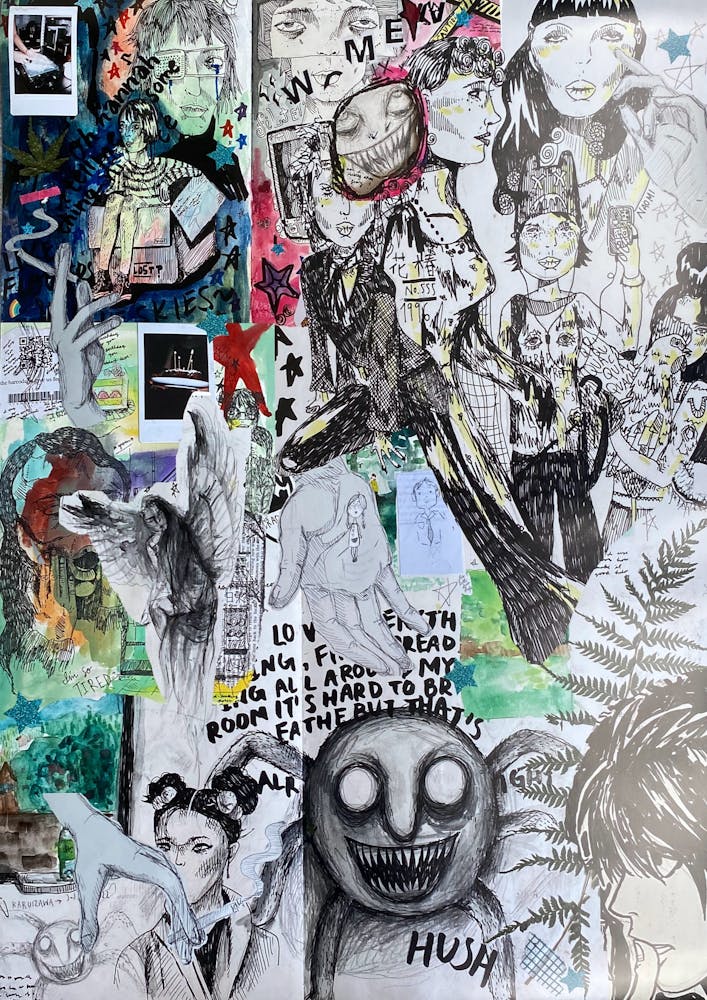 Mixed media: collage, pen, pencil, watercolor, acrylics
"To see without my eyes"
"2078"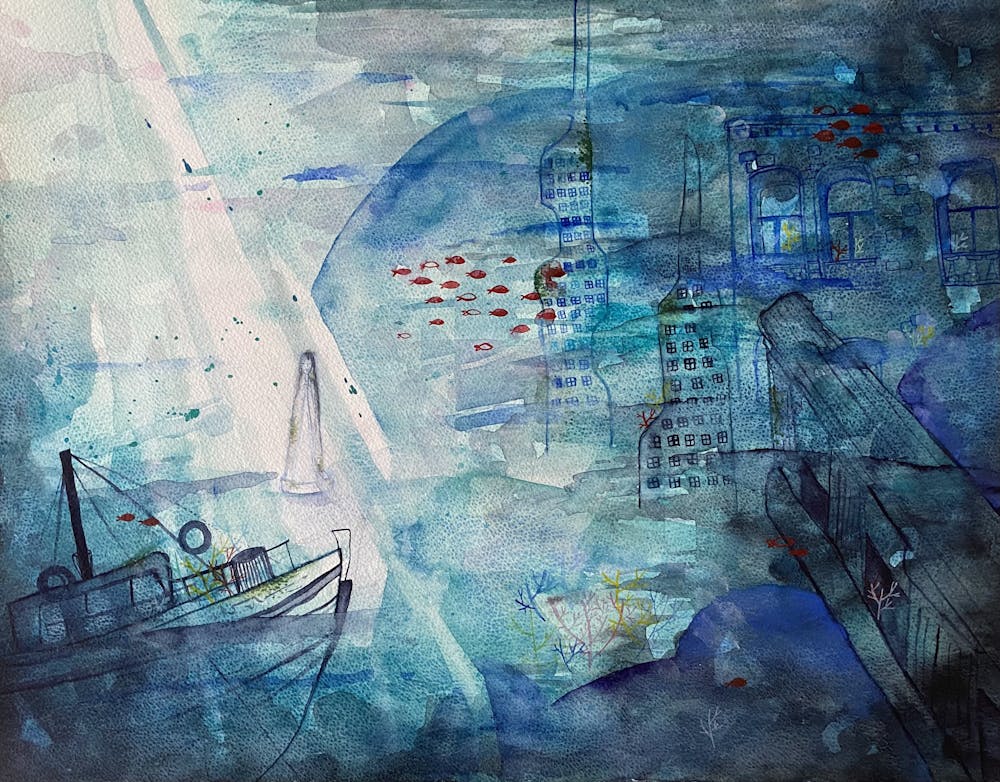 Watercolor, watercolor pencil
"Zap"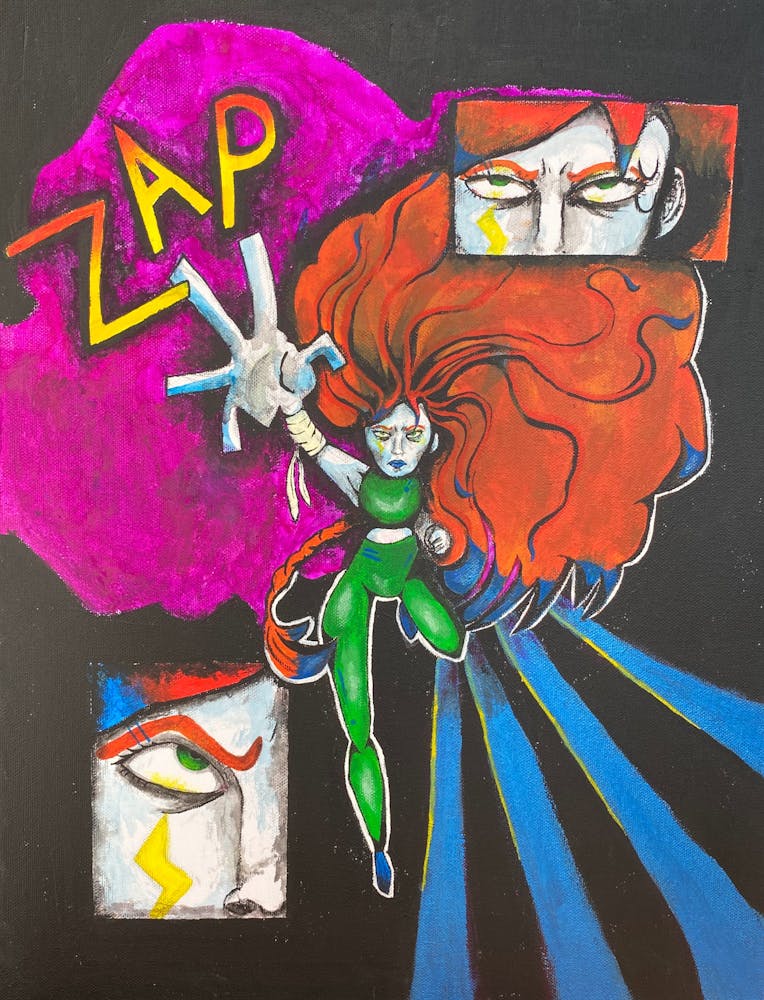 Acrylics
"Fish"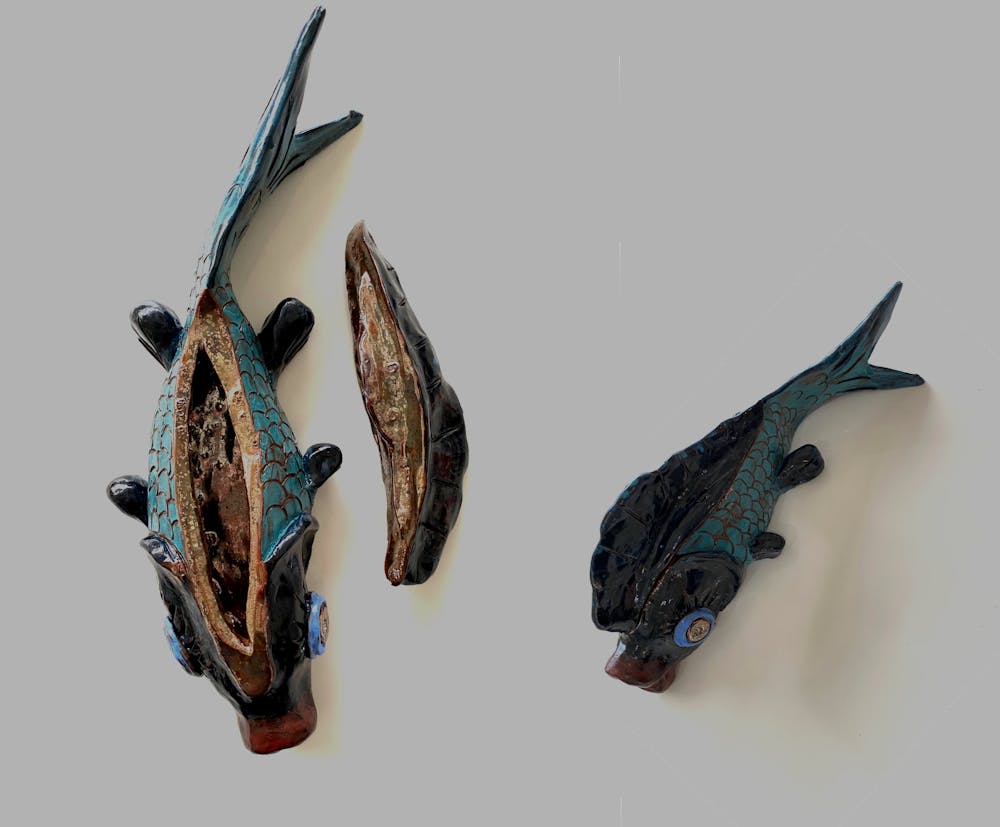 Pottery
"80 days around the world"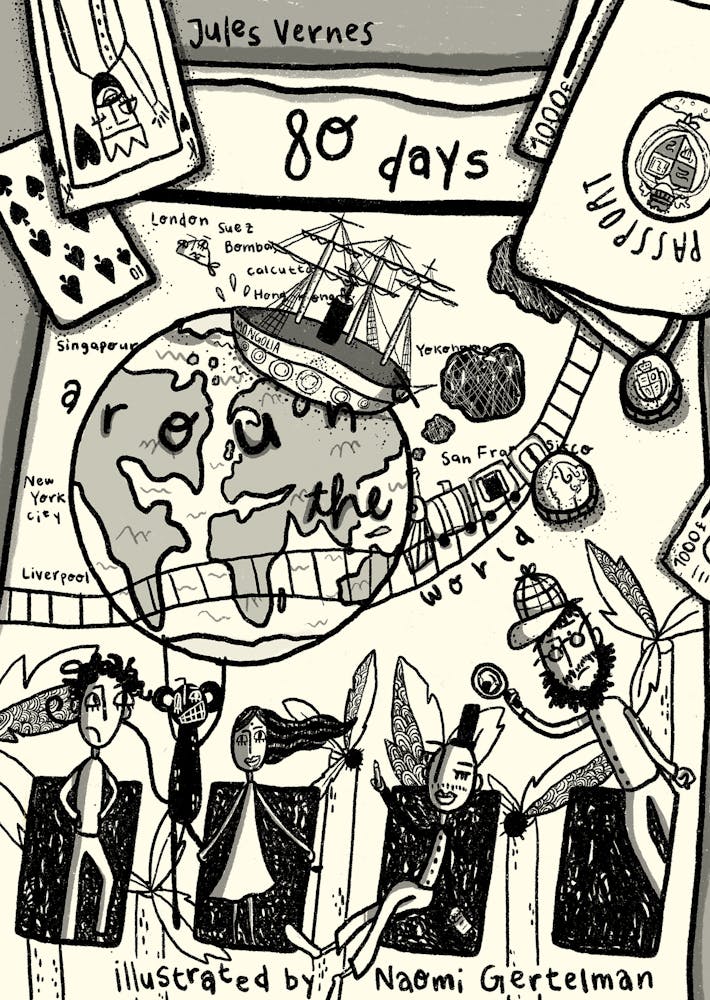 A series of 15 illustrations of the book by Jules Verne.
Digital art
Feilin Gu
Artist Statement:
I am a 12-year-old student, born in Shanghai, who came to Japan at a young age. Wherever I am, one thing that I always return to is my passion for birds. Though I explore various mediums, such as collage, watercolour, and also paper-cutting, my subject never strays from the resplendence of our feathered friends.
Observing birds simply fails to disappoint me: wide arrays of colours paired with the wondrous ability of flight. In a way, I can connect to them myself— a bird of my own mind, spreading its wings as it flies off into boundless creativity.
Let us step into this aviary and see for ourselves what nature has to offer. Perhaps we will hear birdsong that resonates with our own voices.
Profile
Feilin Gu is a 12-year-old artist, student, and full-time bird enthusiast who has been creating art ever since she picked up a pen. Feilin was born in Shanghai and came to Japan at the age of 5, and art guided her through this change.
Being a self-taught artist, she explores various mediums such as watercolour, digital art, and also paper-cutting. Through these mediums, Feilin brings the world of her imagination to life, focusing on birds as a main subject.
"Fleeting Moment"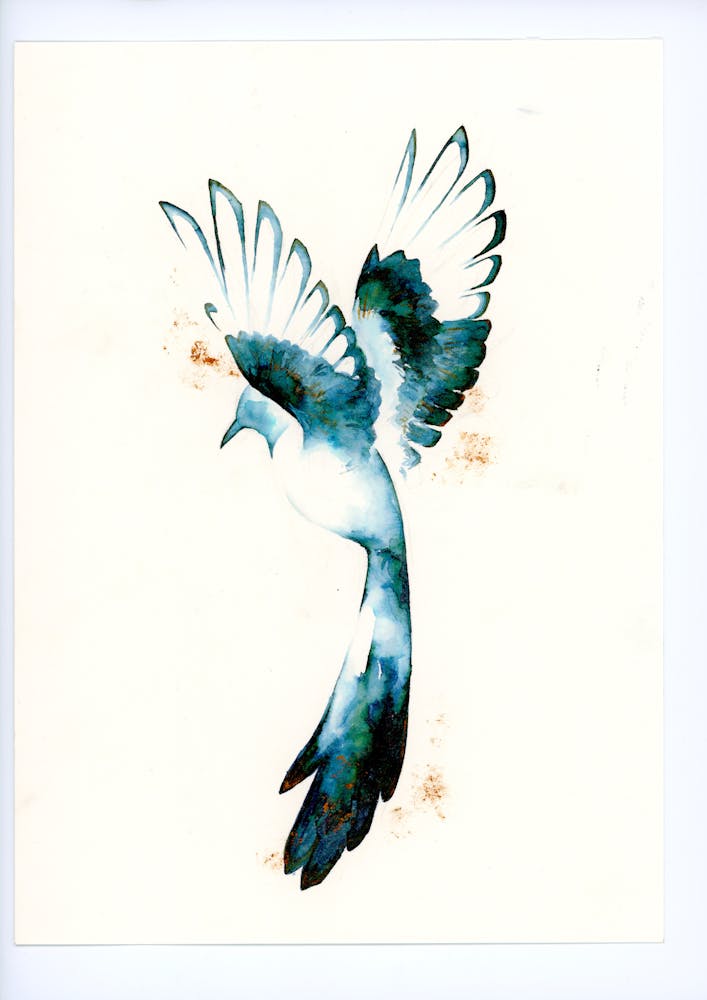 Medium: Ink/watercolour on paper
"Tempus Fugit (Time Flies)"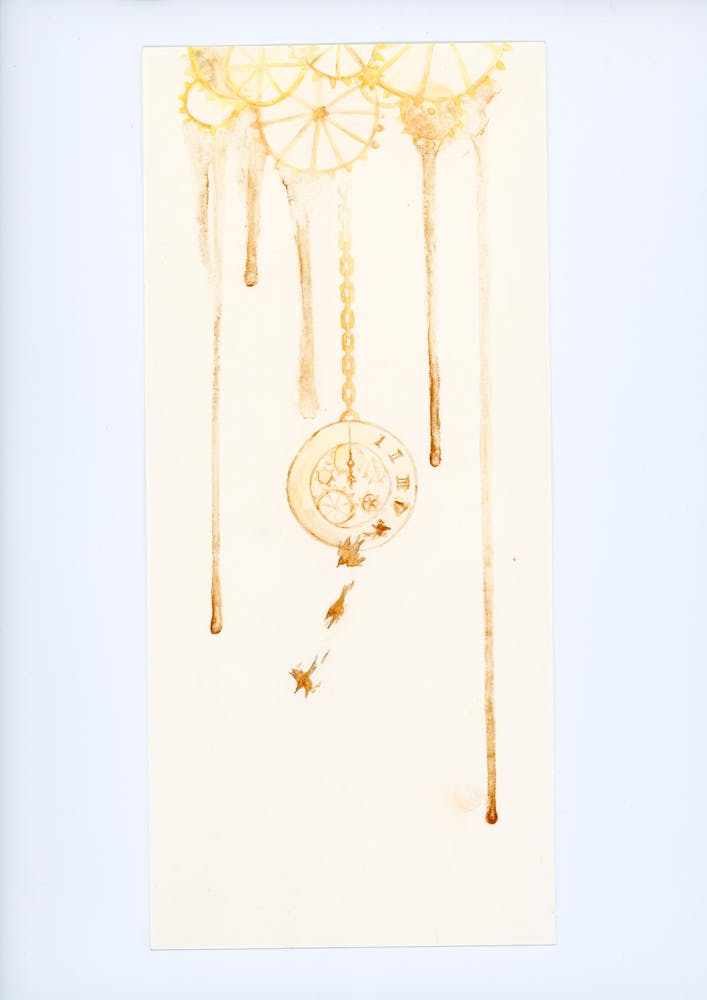 Medium: Watercolour on paper
"Dressed in Golden Splendour"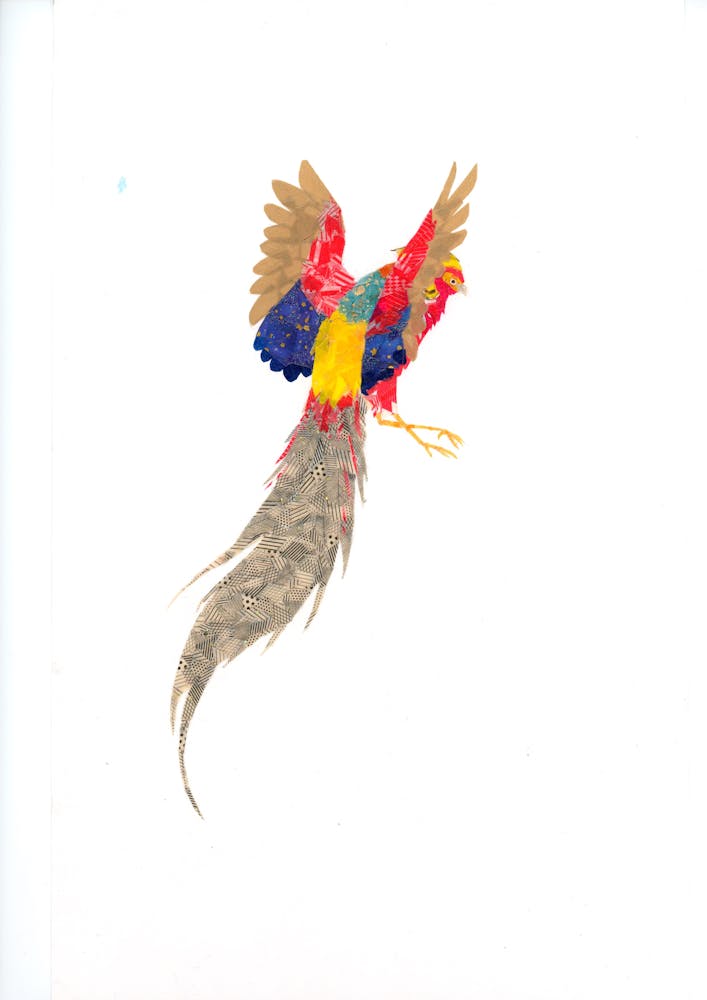 Medium: Collage (masking tape on paper)
"One for Sorrow, Two for Joy"
Medium: Collage (masking tape on paper)
Title(s), clockwise from top left: "Bloom", "Frost", "Flourish", "Fulfillment"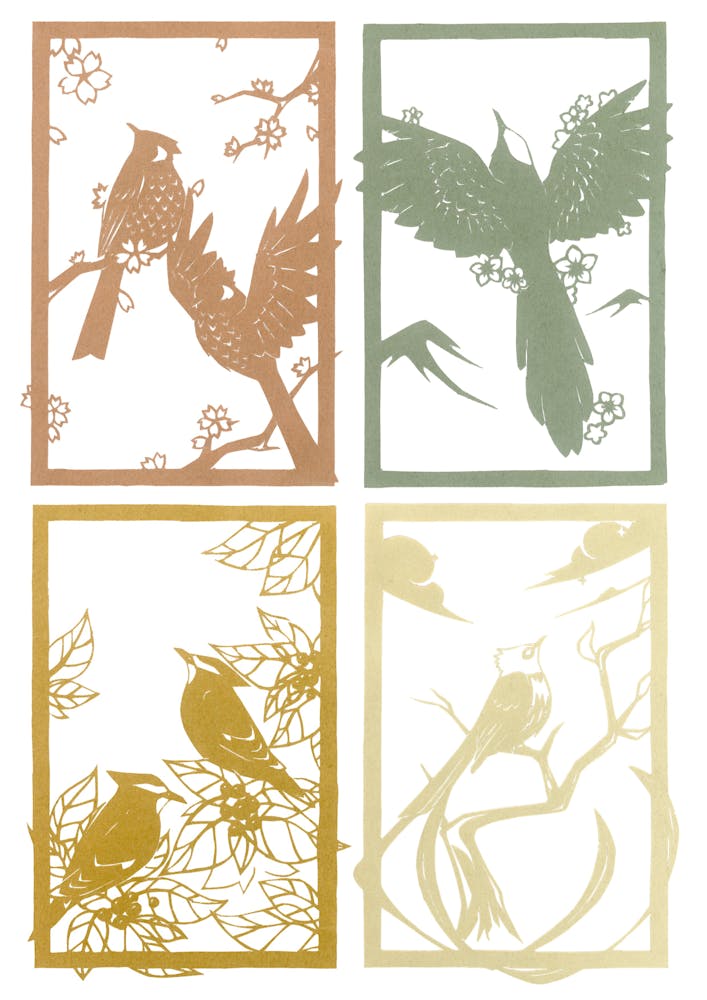 Media: Paper cutting
"Caliginous Bouquet"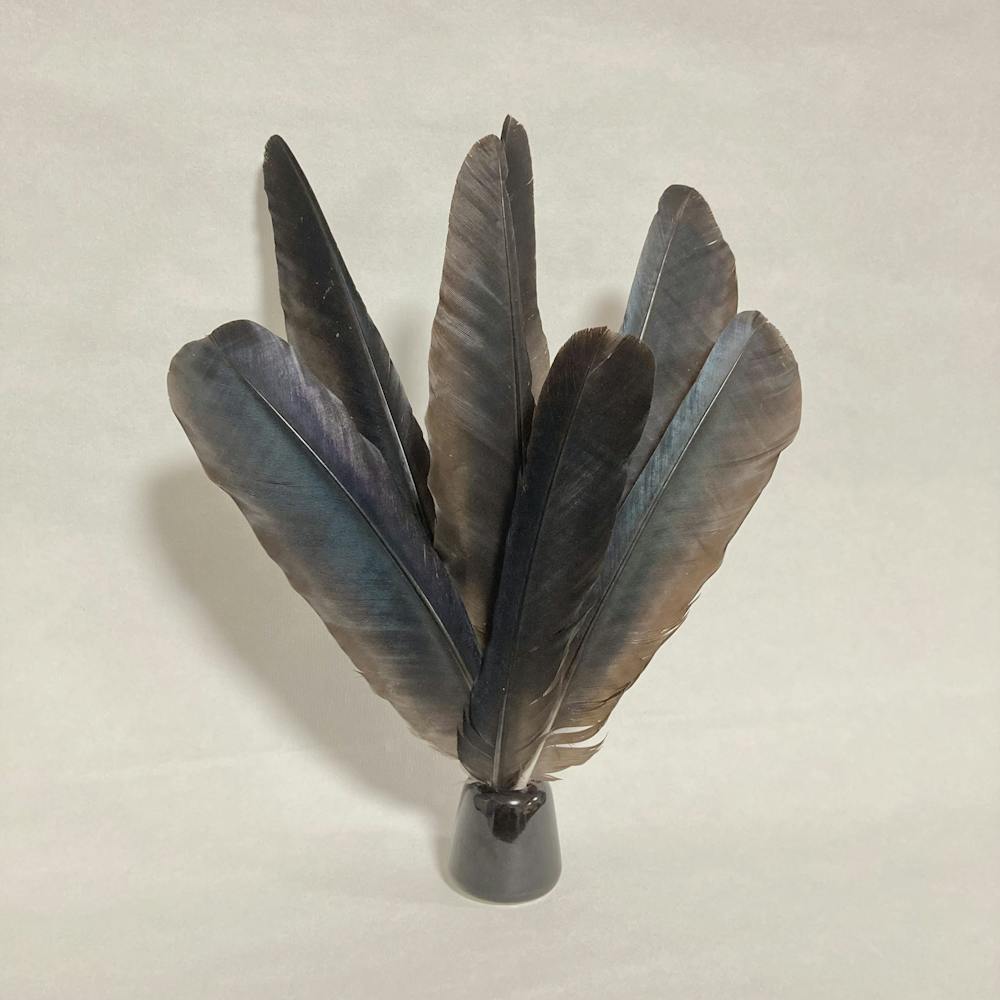 Media: Crow feathers with toothbrush stand
"Starlit Wings"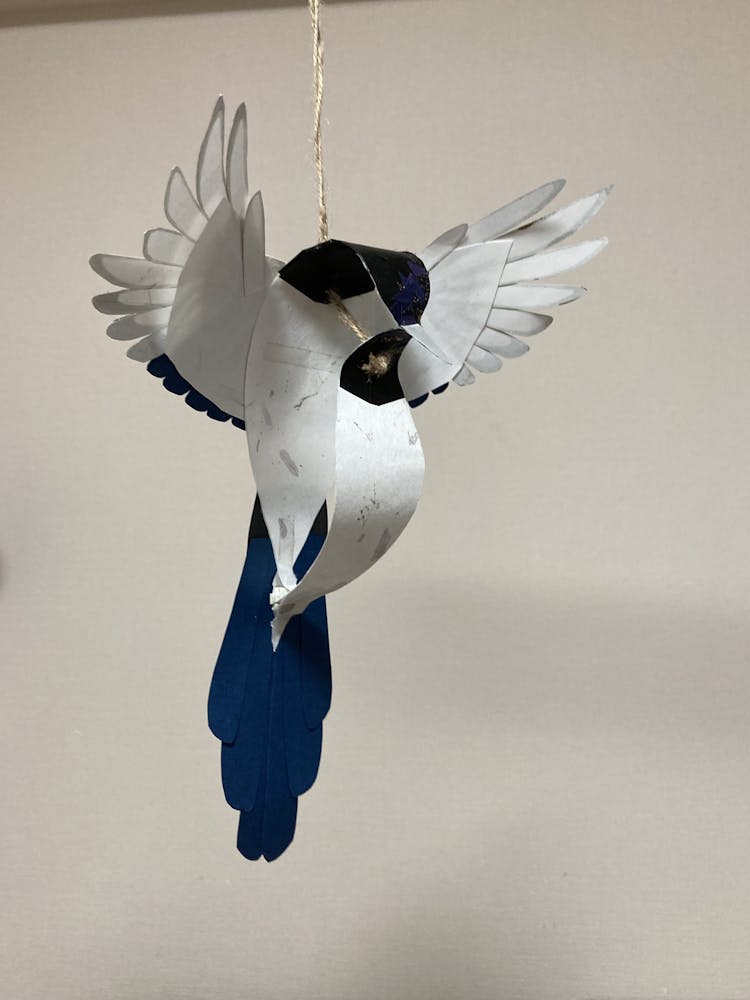 Medium: Paper, tape, and nail polish
" Daydreams of an Avid Birder"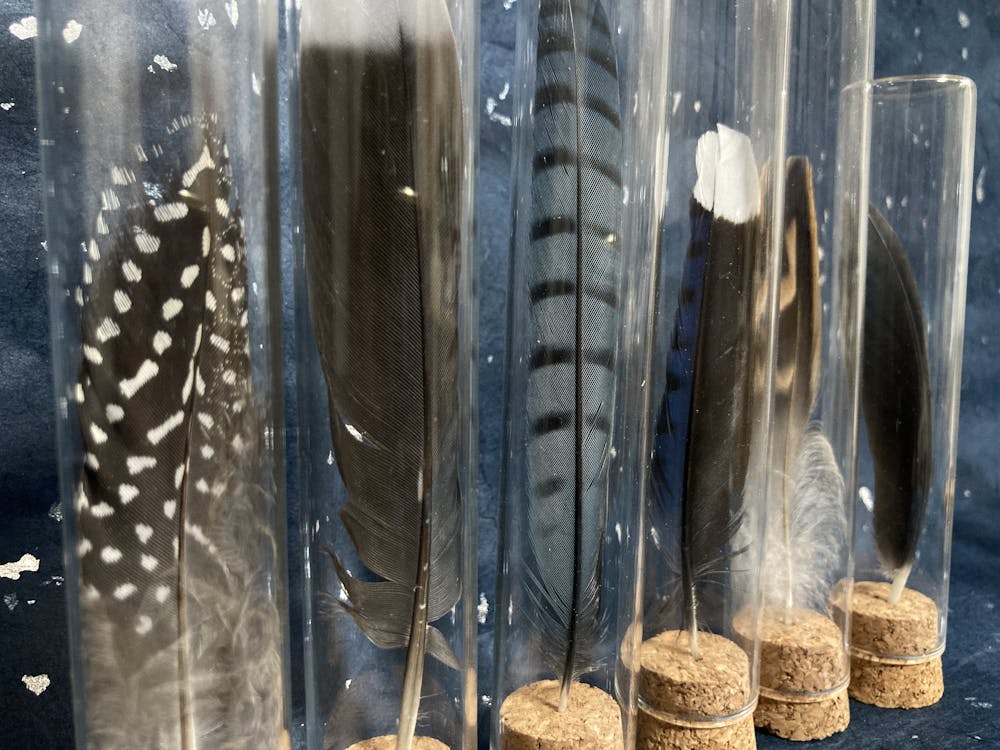 Media: Bird feathers in glass tubes
"Starlit Wings"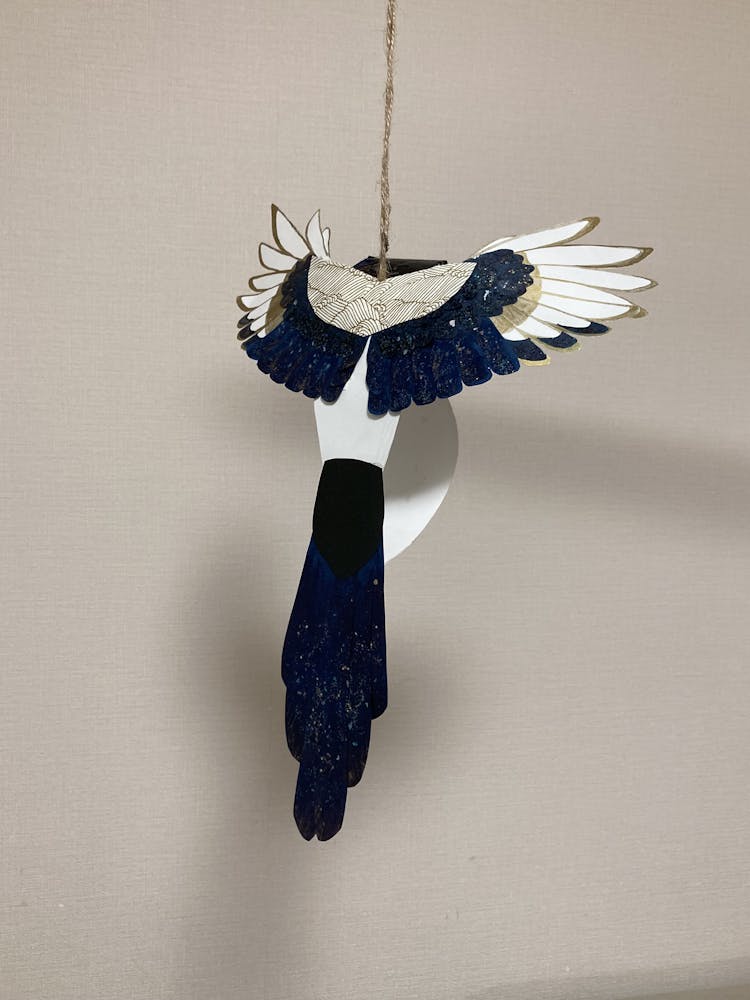 Medium: Paper, tape, and nail polish